Crayola Crayons
The Crayola crayons of today are made by essentially the same formula as that of the original crayons made in 1903. Improvements and minor adjustments have, of course, taken place over the past 90 years, but the crayola crayon formula is as guarded today as it was then. Now with The Digital Light Designer, they have jumped into the 21st century. Click for Rebate.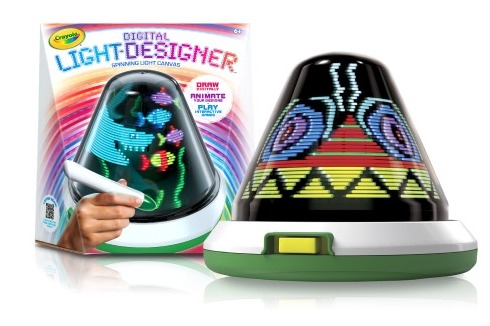 Christmas Ideas
The wax is heated and poured from a double spouted bucket onto the molding table. Each mold forms 2,400 Crayola crayons. As the wax-pigment blend settles into the cylindrical molds, it is cooled by water. The nature of each color's pigments also determines how long the crayon will take to cool, anywhere from four to seven minutes. At that point, the Crayola crayons are hydraulically ejected from their molds.
The mold operator then empties the crayons from their rack onto a worktable, where the first quality control check is made. Any crayons with broken tips, chipped butt ends or inconsistent color are returned to the mixing vat to be melted and remolded.
After being molded, Crayola crayons are placed in an automated labeling machine that wraps and glues on the labels. This process is quite a bit faster than the hand labeling method that was used in the early and mid-1900s. From here, the crayons are fed into packing machines that collate the colors into different assortments for retail stores nationwide.
If all the regular size Crayola crayons made in one year were laid end to end on the Equator . . . you're right, they would melt! But those melted bands of color would circle the Earth six times.
Whoever first described Binney & Smith Inc. as "a rainbow encircling the globe" certainly did not mean to be so literal. However, Crayola crayons are found throughout the world, making the artistic explorations of children--and some adult artists--truly colorful experiences.
Visit The Most "Colorful" Store on the Web at Crayola Crayon www.CrayolaStore.com!